Retaining Walls & Landscape Walls
Retaining walls, done professionally, are where function meet beauty. Cousins Lawn Maintenance can create a beautiful and functional retaining wall system for your property. From design to execution, we protect your yard from erosion in style. Interested in Decorative Landscape Walls? Landscape walls can help to define outdoor living spaces, provide additional seating, or give your garden an elegant look.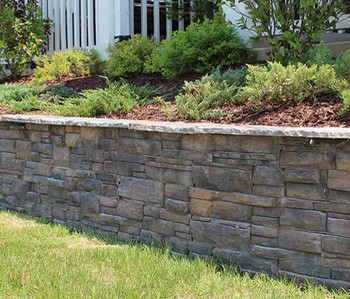 Retaining Wall Installation
Retaining walls can allow you to reshape your property to increase its usefulness, without compromising its integrity. A retaining wall should be as beautiful as it is functional, and should be built to compliment your existing architecture on the property and overall landscape design. Their primary purpose is to prevent erosion, and they are especially important for houses on hills and steep inclines.
Cousins Lawn Maintenance can expertly assess your property to ensure proper grading and sloping in addition to developing a long-lasting and structurally sound landscape wall.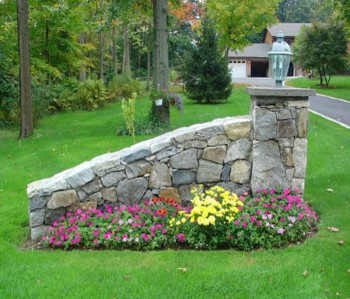 Border Wall Installation
Border walls are one of the more popular types of non-retaining landscape wall. They are often road-facing, and can extend the entire length of your front yard, often with pillars to each side of the driveway entry, or be focused directly around the driveway entry area. This is an excellent way to improve curb appeal and provide a regal feel for one's home.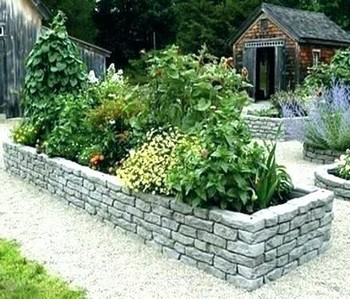 Garden Bed Wall Installation
Another popular and elegant landscape wall is one used to surround garden beds. These can be used to create a raised garden on a flat surface, or to extend a garden onto a sloped surface. The walls prevent the flower beds from washing out and provide an attractive way to outline the various sections of your garden.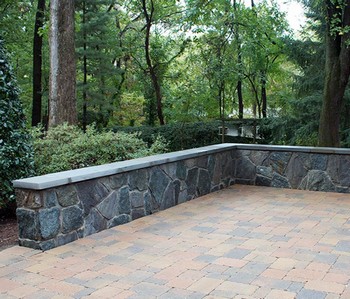 Seating Wall Installation
Hauling furniture indoors every winter is an exhausting aspect of life in New Jersey. An excellent option for providing seating to your landscape is a stone seating wall. These are popular around the edges of patios, outdoor kitchens, and stone firepits. They provide long-lasting utility that is as beautiful as it is functional.